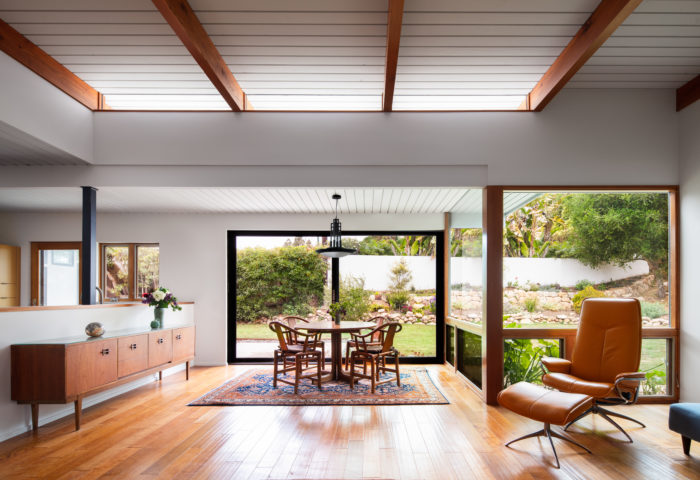 – Client/Contractor Relationships:
We appreciated Evan's responsiveness, his honesty and transparency, and his willingness to answer our questions. His bid process was the most thorough that we have ever experienced. There were few surprises during our project and when they turned up, Evan handled them promptly, giving us options and explaining the impacts of the options.
– Professional Tradesmen:
Evan's crews were professional, friendly, courteous, and respectful of our home and property. Evan was really good at coordinating the work of the different crews, so we never lost any time. While everyone was good; we especially appreciated his foreman, his concrete guy, the electricians, and the floor refinishers.
– Time Line
The timeline was the most amazing part of working with Evan – there was someone working at our house almost every day of the duration of the project. We made progress almost every day and certainly every week. On the few occasions when someone wasn't working, we knew why (such as a wildfire) and when they would next show up. We finished within a week of the project's expected completion date.
– Quality of Craftsmanship
Evan notices all the little details and was often pickier than we were on getting something 'right'. He made several really good suggestions that improved the overall look of the project, such as how our beautiful kitchen window fits in the space.
– Protection of our Clients personal property
Evan built this wonderful plywood wall that separated the construction zone from the rest of the house. Other than the fact we were doing dishes in the bathroom and cooking in the office, we lived almost normally for the duration of the project.
– Job site safety and Cleanliness
The job site was clean and well-organized even though we had a pretty tight space the crews were working in.
---
I've worked with Evan on several projects over the last few years and he's always been responsive, clear, and respectful. He's clear thinking and covers all questions before starting a job. He has also worked with my architect to get answers.
Evan has always brought in excellent tradesmen, people I like and feel good about having on my property and letting into my house.
When it comes to a timeline, construction is always a challenge. Evan does his best to keep to his promised time frame but sometimes things are out of his control. When/if that happens he always calls with an update. Communication is key and he's good at it.
Evan's subs are all excellent craftsmen. I believe he's known most of them for many years, knows their work and recognizes quality workmanship. There isn't anyone he's brought on a job that I wouldn't want working in my house. Through these projects I've made my own list of tradespeople to call when I need something.
Evan makes sure that anything that needs protection is taken care of whether it be coverings, moving furniture or making sure the guys keep the gate closed to keep the dogs in in case they somehow get into the yard unattended.
On one project there was damage to my newly installed driveway. I asked Evan about it, he talked with the two other subs involved and fixed it. In the big scheme of things the damage wasn't huge but the fix was a big deal for me. Simply put, Evan took care of it.
Evan makes sure the job site is clean at the end of the day and safe while the crew is working. He asks everyone to wear masks and safety goggles, tells everyone not to walk backwards on a job unless helping to carry something.
Evan has become my go-to guy for projects. Not only is he good at what he does but I like him. He's a good person in the world.
August 2020
---
We were lucky enough to have had Rigg Contracting recommended to us by our architect, Gil Barry. We met with Evan several times working out the details of our remodel. Evan was very professional and provided us with a detailed bid of the work to be done. We were very impressed with him and developed a wonderful working relationship as we worked with him on the project, which continually changed as we decided to do as much as possible to make this the home of our dreams. The tradesmen that work for Evan are all professional as well. Everyone was friendly and hardworking.
We were very impressed by the way the crew cleaned up every day. They made sure the house was as secured as it could be with walls and windows missing by using plywood to cover the construction areas. They moved furnishings and cleaned things up before brining things back into the house.
The remodel was on track for completion in September, however as time went on we decided to add more improvements which pushed the completion date into early November.
We would highly recommend Rigg Contracting to anyone who is thinking of building or remodeling. You will not be disappointed!
---
I am happy to have the opportunity to say a few words about (Evan) Rigg Contracting Inc. I planned on remodeling my 1977 house that I purchase in the fall of 2019. Rigg Contracting was recommended to me by a mutual acquaintance in the same business. The presentation was thoughtful, organized and very clear on each phase of the job. Contract and billing were crystal clear. The construction crew were polite, skilled, and made every effort to finish the job on time. The project was a wonderful success!! I would happily propose Rigg Contracting whenever the occasion arises.
August 2020
---
We first met Evan when he was working on the complete remodel of a neighbor's house and were very impressed with the quality of his work.

Later we contracted with him to rebuild the original floor of the large entry porch to our turn of the century house.  This was not an easy task as it involved keeping all the walls etc intact while the floor was replaced.  The project became more involved once the floor was removed and many of the supporting beams needed replacing. Evan did a spectacular job in an incredibly short time and with a minimum of inconvenience to us.  He and his workmen were always considerate and efficient.  At the end of each day the area was left in perfect condition making certain that there was always temporary access for us.

Since then Evan has designed and built a gate for us.  He quickly understood what we had in mind and we were delighted with the result.  The next project he will be working on is remodeling a bathroom for us.

We would highly recommend Evan. His high standards and professional manner make him stand out compared with some of the contractors we have used in the past.  
---
I am writing to recommend Evan Rigg and Rigg Contracting. My wife and I have had several extensive projects completed at our home in Santa Barbara by Rigg Contracting. We found each project done extremely well, competitively priced, complete and left cleaned up.
We have had a couple bad experiences with sub-par contractors who would leave a job slightly unfinished, not cleaned up and a couple times way over the initial bid. We had none of that with Evan and his team.
One job we had done by Evan included some foundation work underneath a hot tub installation and deck extension. Then deck had to match the existing look and was in a tricky area. Needless to say, we were thrilled with the final results.
Another job was a complete overhaul of my garage, transforming it into a beautiful office. This included leveling and installing a new floor, building a wall and door partition and the installation of two large French doors and side windows. I am very happy with the results.
Evan also installed a new fence around our property with a custom arbor to replace an old, dilapidated one. This included three gates and required installation of a synthetic fencing material, which only made the job that much more tricky. It looks great and we will never need to paint that fence again.
On top of all of this, Evan and his team are just plain friendly, honest and nice to work with. I highly recommend Rigg Contracting.
---
We asked Evan to remodel our bathrooms with a certain budget in mind and within a certain timeframe.   The challenge was not necessarily the budget it was more the eleven day timeframe asking Evan to have it done while on vacation in Hawaii.   Evan stayed in close communications throughout the project keeping us updated with photos and emails.  When we returned, the job was nearly complete which wasn't a bad thing because we realized that our expectations were a little unrealistic….we were actually very pleased with the work and craftsmanship upon our return.  As Evan and his team finished the project over the next few days, we witnessed an extreme amount of professionalism and care for our home and the completion of the project.  The final result was excellent!
---
Rigg Contracting Inc. remodeled our downstairs bathroom earlier this year.  It was a full top to bottom conversion. From the beginning of the project all the way to completion Evan was a pleasure to work with.  He was here first thing every morning and worked a full day.  He kept the project on time, and even more important, on budget.  The bathroom is for our 95 year old live in mother.  He was especially considerate of her needs. He kept a very clean and orderly job site.
Evan choose tradesmen who were excellent in their craft. Evan was always there to oversee their work. He was able to communicate any concerns we had with them and instrumental in solving any problems that arose.
We will definitely be calling on Evan again in the near future. The kitchen is next, I can't wait.